Datacenters and Network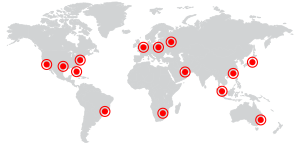 i3D.net owns and operates over 10,500
servers
at six continents around the world: Amsterdam, Rotterdam, Frankfurt, London, Warsaw, Moscow, Washington DC, Dallas, Miami, Los Angeles, São Paulo, Tokyo, Singapore, Hong Kong, Sydney and Johannesburg. We operate from our own 36,000 ft² data center in the Netherlands. i3D.net operates a
723 Gigabit
transatlantic
network
.
The i3D.net global network provides a scalable platform for a flexible roll-out of our services, allowing us to rapidly increase capacity for
colocation racks
,
dedicated servers
,
cloud instances
and
web hosting
. We are experts in scaling out capacity on a global scale.
Our scalable services are supported by 24x7 support and our software to manage and monitor capacity and performance. i3D.net offers a SLA on scalability, uptime and performance. Our datacenters are ISO/IEC 27001 and CDSA (Content Protection & Security) certified.
More Information
Latest News
i3D.net expands Africa and Middle East server platforms, peers at NAPAfrica in Johannesburg, South Africa
i3D.net offers managed hosting in Africa since 2009 and is proud to announce general availability of our game cloud and dedicated servers in Johannesburg, South Africa and Dubai, United Arab Emirates, starting December 1, 2016. Johannesburg and Dubai are added to our global network of 16 datacenters worldwide.All services are offered on the i3D.net One Platform, with one support team, one management platform, one global hardware and datacenter standard on the backbone of our global network, i3D.net offers a consistent high performance hosting solution to customers worldwide.Cloud Hostingi3D.net now offers dedicated servers, hyb...
News Archive
23 Dec 2016

-
i3D.net Christmas and New Year opening hours
16 Jun 2016

-
i3D.net now supports payment with credit...
17 Mar 2016

-
i3D.net opens new Dallas location for cloud,...
10 Mar 2016

-
i3D.net expands IP Transit network to 620...
01 Mar 2016

-
i3D.net expands Sao Paulo, Brazil datacenter...
14 Jan 2016

-
Battlefield High Tick rate: Upgrade today
23 Dec 2015

-
Do you use Juniper Netscreen networking equipment?
17 Dec 2015

-
i3D.net chooses Relined for its backbone